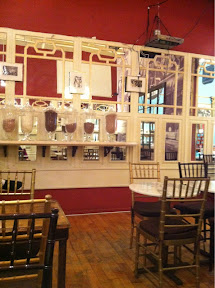 Being a connoisseur means that an individual invests considerable time and knows much about the subject matter. When it comes to tea and chocolate, well, I've decided to be a lifelong learner. Thankfully, they pair well together so it makes studying tea and chocolate a delicious culinary endeavor.
Passing The Cacao Bar
It's amazing how my walks around New York's five boroughs usually terminate in food and tea shops. Walking remains my primary form of exercise towards increasing my oxygen intake and all the other good food I intake. Additionally, my doing Pilates sessions regularly help me walk gracefully and maintain an abdominal core conducive to exploring tea and food establishments.
Yes, tea and chocolate rank very close to oxygen as items which add vigor to my life. One day while taking in some oxygen, I developed an intense craving for full, rich, dark chocolate. Wait to exhale?! The desire grew more insistent with every step. Finding a suitable place to satisfy a chocolate desire became my quest. Who knew exercise would have such an effect on the psyche? After considering several therapeutic options, I remembered The Cacao Bar at
MarieBelle Chocolate
, located at 484 Broome Street, has food, tea and chocolate in abundance. Relief was literally at my feet.
Experiential Education
Although MarieBelle carries a great tea selection, drinking chocolate is a must-have for every first time visitor or tea aficionado craving chocolate. It's also a fantastic place to learn more about chocolate.
Chocolate originates from the seeds of the cacao tree, usually found in tropical climates. These seeds are dried, cleaned and roasted to produce cacao nibs. The nibs are then ground into cocoa mass, rough but pure chocolate. Once liquified, chocolatiers like MarieBelle take the chocolate liquor and transform it into wonderful beverages. For example, the "Spicy" drinking chocolate pictured here features 60-70% Colombian cacao blended with chipotle and ancho chile. How does it taste? Every cup speaks for itself...